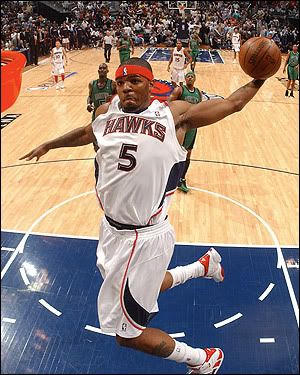 Everyone, including the Celtics themselves had thought Round 1 in the Playoffs would be a breeze for the Boston. But the Hawks have other plans.
They aren't backing down. And have played in the last two games with more passion and energy than any other playoff team.
Josh Smith has stepped up his game. He led the team offensively in Game 3. And led them with his defense in Game 4.
Al Horhord is playing like a veteran. He got into Pierce's face jawing, like he's not a rookie.
Joe Johnson has finally taken over a game, carrying the Hawks in the 4th quarter.
Bibby has finally played like a playoff veteran, steadying the Hawks on offense.
Boston is still the team to beat in the series. But the Hawks have are dangerous and could come up with the biggest upset in NBA history. Everyone's noticing them now.
... Is Josh Smith finally going to the All-Stars?
Published by m4rvin Monday, April 28, 2008 at 8:13 PM.

1

Comments